A Catholic community that endeavours to live the joy of the Gospel.
A Parish – Family of Families – journeying together, breaking bread and sharing life.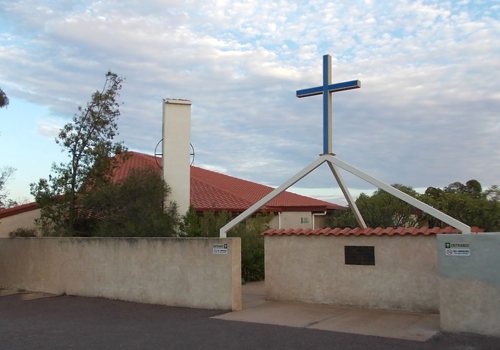 All Saints Church
PORT AUGUSTA
Sts Alexis & John Nepomucene Church
WILMINGTON
| CHURCH | DAY | 1st | 2nd | 3rd | 4th | 5th |
| --- | --- | --- | --- | --- | --- | --- |
| Port Augusta | SAT | 6:30pm | 6:30pm | 6:30pm | 6:30pm | 6:30pm |
| | SUN | 10:30am | 10:30am | 10:30am | 10:30am | 10:30am |
| Wilmington | SUN | 8:30am | 8:30am | 8:30am | 8:30am | 8:30am |
Lord Jesus Christ, Divine Saviour, You build your holy Church upon the foundation of love expressed by Simon Peter and you taught us how to love others as you have loved us. Be with us as we build our local Church in the Diocese of Port Pirie. May your presence strengthen our will to serve you and support one another. Come and stay with us in our homes. Let your presence in our families help us to refresh our "domestic church" with your gift of love. Open our ears to hear the voice of our neighbours crying out for your support.
Asking for your presence in our local communities, we ask your blessing upon our endeavours of supporting young people through the ministry of the National Evangelisation Team and our Diocesan Youth Ministry. May their efforts help young people courageously open their hearts to God's gift of love, give them strength to face any challenges in their life, knowing that with God on their side they can achieve great things. For it is in you, O Lord, we place our hope and trust. AMEN
Parish Priest: Fr Jim Monaghan VG
Child Safe Contact Person: Mrs Malar Martingracias
The church of All Saints was opened on Sunday October 24th 1976 replacing the original church.
Fr Leo Dundon, parish priest during the 1970s, is responsible for much of the design and style of our parish church. The Spanish style of architecture suits our climate and lifestyle. This style of building with its walled courtyard is also very conducive to maintaining an atmosphere of 'retreat'.
Giving people the sense of retreating from their busy daily lives into a place that offers quietness, rest and prayer, a place to come and be nourished by the Eucharist.
The Murphy Bell fully restored in 2004, was cast by J. Murphy in Dublin in 1883 for the princely sum of 100 pounds. The bell is decorated with the symbol of a shamrock and harp with the words – "Sancta Maria et Omnes Sancti intercedant pro nobis ad domunum" which means "Holy Mary and All Saints intercede for us to the Lord".
This icon of All Saints stood in a small bell house for nearly 100 years before being placed into the bell tower in 1976. Its wonderful sound can be heard calling people to prayer each week.
The original church and presbytery in Port Augusta were built during 1882. The foundation stone was laid by by the Bishop of Adelaide, Dr Reynolds, on Wednesday July 5th 1882.
Within the Catholic Parish of Port Augusta is the farming town of Wilmington in the Flinders ranges. The people have been gathering there for worship in the Church of Ss Alexis and John Nepomucence since 1908.
PORT AUGUSTA PARISH
PO Box 492, Port Augusta SA 5700
Ph: +61 8 8642 2847